What makes us different?
Commitment to Excellence, Leadership, Results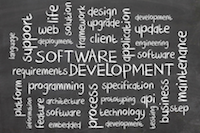 Our engineers have a passion for technology and constantly improving the way they design, construct and maintain software. They are multi-faceted with excellent communication skills and advanced experience in a broad range of technologies. What makes them unique is their commitment to excellence, leadership and that they are results oriented.
In addition, our engineers have 20 years of practical, real-world experience across multiple business domains, including Finance, Administration and Procurement. They are experienced technologists that have successfully applied their knowledge across Intelligence, State and Federal Civilian agencies.